Directly on the Elbe, an extensive new development area is being built on an area of 157 ha south of the historic Speicherstadt: Hamburg's HafenCity stretches from the already completed Am Sandtorkai quarter with the Elbphilharmonie concert hall in the west to the Elbbrücken bridges, where the 245 m high Elbtower will form the conclusion in the east, visible from afar. A lively city on the waterfront is being created here, which will combine working, living, culture, leisure, tourism and retail. Thanks to its comprehensive product portfolio, PohlCon is contributing to the success of two major construction projects in HafenCity.
Our products for technical building equipment and formwork in Überseequartier
The Überseequartier, located to the east of the Elbphilharmonie concert hall, is a central building block of the city district on the Elbe. On a total area of 419,000 m2, 14 buildings with three hotels, almost 580 flats, offices and areas for gastronomy, shopping and cinema as well as a cruise terminal are being built. The area is scheduled to open as early as spring 2024. The PohlCon brand PUK is supplying the technical building equipment for a total of six buildings, including, among other things, over 3,100 KDU bracket supports and over 4,100 m of LGG 60, RG 60 and RGS 60 cable trays. In addition to the delivery, we are also providing advice, installation and acceptance of the installed cable support systems.
PohlCon was also able to contribute to the main extension of the underground car parks with extensive deliveries. By May 2023 alone, 20,800 KDU bracket supports, over 31,600 KW and KWMS brackets and almost 41 km of LGG 60, R60/85 and RG 60 cable trays were installed. In addition, the PohlCon brand H-BAU Technik provided 62 formwork pipes of 3.30 m each for supports in the area.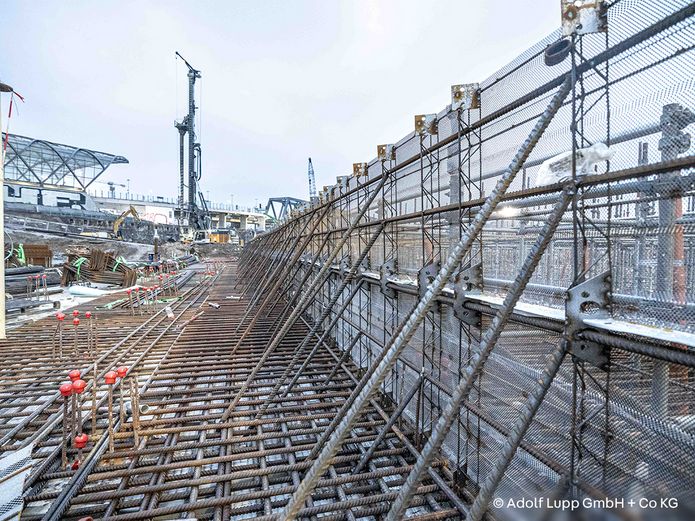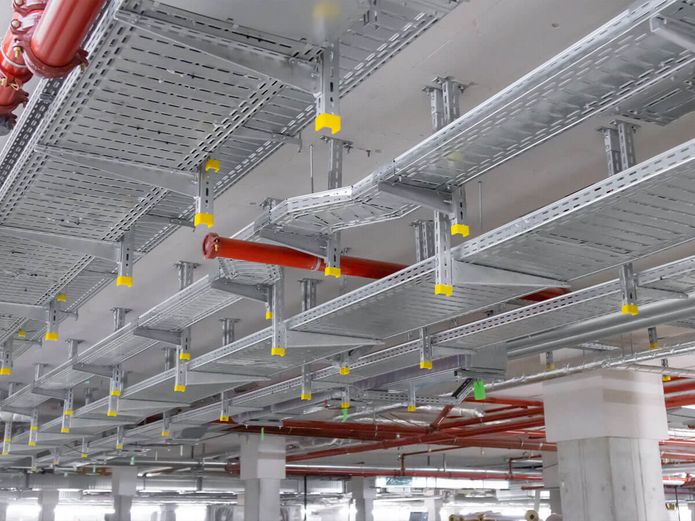 Sealing, reinforcement and formwork for Hamburg's skyscraper
The Elbtower by star architect David Chipperfield with 64 storeys is a real heavyweight. Building construction work began in January 2023. Completion is planned for 2025. Offices, gastronomy, culture and fitness are to find their place in the future architectural icon.
PohlCon and its H-BAU Technik brand are responsible for the entire waterproofing of the Elbtower. 2.5 km of PENTAFLEX KB® joint sheets were installed for construction joints, 750 running metres of OBS elements for predetermined crack joints in in-situ concrete walls as well as 1.25 km of PENTAFLEX ® ABS formwork elements for installation heights of up to 2 metres.
JDA punching shear reinforcements from the PohlCon brand JORDAHL were used for the reinforcement work. In the individual storeys, 65,000 punching shear reinforcements with up to 8 anchors each are planned. More than 11,600 individual dowel bars with lengths of up to almost 4 m were installed in the floor slab and 9,900 individual dowel bars with a length of 80 cm were again installed in the outer wall facing the upper harbour canal. The total length of the bolts amounts to approx. 56 km. For the building construction, 1,800 running metres of RAPIDOBAT® formwork pipes in various diameters are used by H-BAU Technik. Thanks to the Cretcon HD coating, a very high quality concrete surface is achieved on the columns.
Whether civil engineering, shell construction, facade or finishing – we have something for every building project!